Looking For Website Design In Brisbane That Delivers Real Results?
Just like any other part of your business your website must deliver real results to justify its cost. It must have a clearly defined purpose for what it is expected to achieve for your business and deliver quantifiable results in line with that purpose.
In days gone by, you could get a 'techie' to throw up a brochure style website and then forget about it, but if you actually want to grow your business via online marketing in todays world, then you need a website that actively delivers results.
So what makes up a effective website?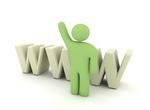 Your website should be one cog in the machine that is your overall marketing strategy. It is no longer acceptable to even think about it in isolation to what you do in your business.
A large and ever growing number of your new or potentially new clients, will come to your business via an online interaction and here at Grow Digital we believe that your website should provide the 'Conversion' factor. In other words, your websites reason for being is to 'convert' those site visitors into potential clients.
The conversion process should be designed to get a direct response in the form of one key action from visitors.  That action might be;-
Getting your number and calling you
Getting your address and stopping by your business
Making a purchase in your online shop
Providing their name and email address
Recommending you to a friend who needs your products or services
Becoming a fan on Facebook, or tweeting about your products or services
and many more…
The aim of your website design should be to guide and encourage the visitor to make a decision that will benefit both you and them.
So what does all the fancy new technology have to do with it?
Well, a lot and not much at all, if that makes sense…let us explain…
We are experts in all the latest web design technology…we even get a little too excited about it at times…
But, at the end of the day, the latest and greatest technology will not make any difference if your website is not designed correctly to do what it is meant to do…which is to attract and convert visitors into customers.
If you really want to know about technology
When we design your perfect small business website we deliver the following:
We design websites that are beautiful to the eye and carefully customised to match the aesthetics of your industry and target market.
In order for people to be able to find your website, we make sure your on page search engine optimisation is maximised.
We engage and persuade your audience, as we know what to do to make someone click.
We install cutting edge tracking software that allows you to measure the success of your website.
Custom business blogs, that allow you to captivate your clients with news and updates and increase your industry authority.
Complete database collection processes, that allow you to capture your highly valued visitors and and customers details.
High powered and easy to use content management systems – that allow you to update your own website, quickly and efficiently.
So if you want a website for your business that actually attracts visitors and converts them into customers, rather than one that just sits there looking pretty and costing you money…
Then call Grow Digital today on (07) 3852 3921 to schedule your FREE 30 minute consultation and discover how you can grow your business with website design that really delivers.